The coronavirus pandemic has left a "gaping hole in the U.S. housing inventory" that is triggering property price growth, according to a report released Thursday from realtor.com.
In the roughly six months between the start of the pandemic in March and mid-September, 2.91 million homes have been put on the market, roughly 390,000 fewer than the same time in 2019, the online real estate portal said.
In the week ending Sept. 19, there were 39% fewer homes on the market compared to last year, and any upcoming uptick is unlikely given the typical seasonal slowdown on the horizon.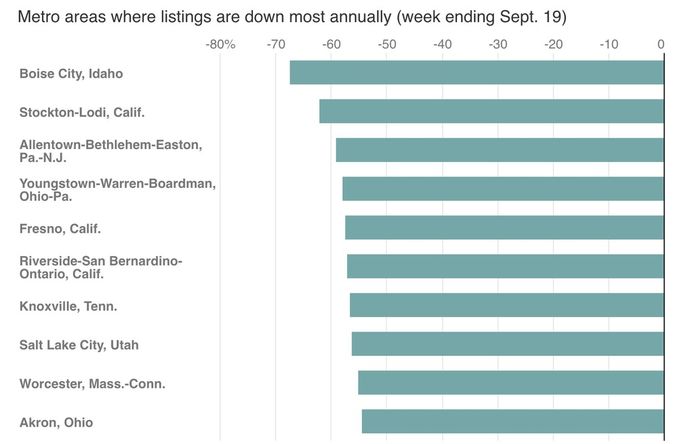 The lack of supply has been the catalyst for heated market conditions as median listing prices last week grew at a record 11.1% year-over-year—more than double January's pace—marking the 19th consecutive week of increasing price tags, the report said.
"Sellers are more reluctant to list their home given the uncertainty over the economy and the pandemic environment," Javier Vivas, director of economic research for realtor.com, said in the report. "Buyers on the other hand, especially hungry first timers, remain largely unfazed by the challenges, and are motivated by low mortgage rates and the fear of missing out on the right home."
"The majority of sellers are also buyers, so even as new listings hit the market, another buyer is also added," he said.
Demonstrating the appetite of buyers is the speed in which homes are selling.
Last week, properties changed hands in an average of 53 days, which is 12 days faster than this time last year, and one day faster than the week prior.
--
By Liz Lucking | Sep 25, 2020
Original article was first published on realtor.com and can be found here: https://www.realtor.com/news/real-estate-news/u-s-buyers-face-significant-inventory-shortages/